Richard Phillips sheds light on wrongful conviction experience with Center for Behavioral Health and Justice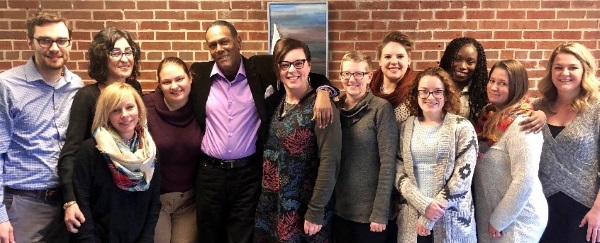 Richard Phillips life forever changed on December 14, 2017 when he stepped out of prison after serving over 45 years for a murder he did not commit. Phillips recently shared the impact of the criminal justice system's failure on his life with the staff of the Wayne State School of Social Work Center for Behavioral Health and Justice.
As a youth, Phillips was uprooted from his Alabama home and brought to Detroit to live with his mother and siblings in what can only be described as squalor conditions. The lack of familial support and encouragement resulted in Phillips making what he termed "the biggest mistake of my life" and dropping out of school in tenth grade. Phillips went on to marry, have two children and work as a typist for Chrysler before his 1970 arrest for armed robbery and eventual conviction of first-degree murder and conspiracy to commit murder of Gregory Harris in 1972. After several unsuccessful attempts to overturn his conviction, Phillips had giving up hope for freedom until he was contacted by The University of Michigan Law School Innocence Clinic. Phillips was informed that his alleged co-defendant, Richard Polombo, had admitted to a parole board that Phillips had nothing to do with the armed robbery or murder, which had been committed by Fred Mitchell. Polombo stated Mitchell had murdered his brother-in-law, Harris, after a dispute over money and implicated Phillips in the crime in to avoid conviction on other charges. In January 2018, Wayne County Prosecutor Kym Worthy established the Conviction Integrity Unit and after a review of Phillips' case, the Wayne County Prosecutors office dismissed Phillips' murder charges in March 2018. Worthy stated "It has been determined that the case against Mr. Phillips was based primarily on the false testimony of the main witness in the case….The system failed him. Nothing that I can say will bring back years of his life spent in prison. Justice is truly being served today. We will recommend to the Michigan Attorney General's Office that that Mr. Phillips receive wrongful conviction compensation."
Unable to qualify for traditional correctional re-entry services for those with a record, Phillips has connected with area churches and organizations including Proving Innocence, a grass-roots based Royal Oak based non-profit organization focused on freeing those wrongfully convicted and providing support upon their release and the University of Michigan Law School Innocence Clinic which investigates and litigates wrongful conviction cases. Phillips was invited to share his story with the Wayne State Center for Behavioral Health and Justice (CBHJ) via CBHJ Deputy Director, Liz Tillander. The CBHJ, led by Dean Sheryl Kubiak, assists local communities, organizations, and behavioral health and law enforcement agencies across Michigan in diverting individuals with mental health and substance use disorders from the criminal justice system to appropriate treatment. The CBHJ primarily focuses on three projects: 1) Statewide Jail Diversion, through which the CBHJ advises the Governor's Diversion Council based upon the evaluation of diversion programs in 10 counties; 2) Stepping Up Technical Assistance, through which the CBHJ partners with the Michigan Department of Health and Human Services to provide technical assistance to 21 counties working to keep individuals with mental illness out of jail: and 3) the Michigan Re-entry Project, which provides wraparound supports to individuals exiting prison who have co-occurring mental health and opioid use disorders.
Although proven innocent of murder, Phillips faces many of the same re-entry struggles CBHJ staff witness in the Michigan Re-entry Project and researchers address in the Social Work Grand Challenge of Promoting Smart Decarceration, including system navigation, the ability to attain financial stability, locate stable housing and reconnect with lost friends and loved ones. Throughout it all however, Phillips has remained positive and grateful for every day and new experience. Phillips performs public speaking engagements discussing his experience and recommendation for changes to the justice system, which include required face-to-face discussions between inmates and parole boards and a higher burden of proof for murder convictions than he experienced while at trial. A strong supporter of inmate education programs, Phillips earned his GED, an associate's degree in Business Management and a certificate in drug counseling while incarcerated and has continued to pursue his passion of art and painting with works to be shown at a local gallery.
"There is a presumption that individuals who are convicted in our courts are guilty," noted Dean Kubiak. "This presumption – as well as the inability to believe that our personal circumstances might one day lead us to involvement in the criminal/legal system – prevents us from seeing the humanity of others. Richard's story is triumphant in that he did not allow an unjust situation to alter his own sense of self and the good he has to offer the world. The WSU School of Social Work's Center for Behavioral Health and Justice is committed to preventing or reducing the consequences of incarceration, whenever possible."